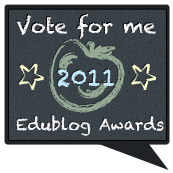 Our class was very excited today to find out that our Class Blog has been shortlisted for the Best Class Blog for the Edublog Awards.
Voting is open from today until Wednesday 14th December.
We would really appreciate you showing your support for our blog by voting for us.
How to vote:
Please visit http://edublogawards.com/vote-here/
When you arrive there please click on the category drop down menu and choose 'Best Class Blog'. Then you will see another drop down box called 'Best Class Blog', click on this and then simply choose 'Mr. Baldock's Year 2/3 Class'. Then click on the red Vote! button. It's that simple.
You can only vote once per day, per category from one location (IP address). What this means is you can vote more than once and we encourage everyone to vote once a day if you can.
Ways you can help support our voting campaign:
Cut and paste the link to this post http://mrbaldock.edublogs.org/?p=3026 and then Email, Skype, Tweet, Text, Blog or Phone your friends and family encouraging them to vote and spread the word.
Use the sharing icons at the bottom of this post to tweet, Google+, email or share using other platforms.
Ask your family and friends to vote from work or from mobile devices such as smartphones or iPads, on as many different days as possible.
Vote from your home every day or as much as possible.
Spread the word across Campus. Ask teachers and students from around the Campus to vote for us.
Support our other nominated blogs from the Campus:
We were also excited to learn that three other blogs have been nominated for an award and would also appreciate your support.
Best Student Blog:
Both Grace and Amelie have been nominated for the Best Student Blog Award. To view their blogs, click on their logos below.
To Vote for Amelie's Blog or Graces's Blog please visit http://edublogawards.com/2011-3/best-student-blog-2011/
BEST LIBRARY / LIBRARIAN BLOG:
The Aberfoyle Park Campus Resource Centre Blog has been nominated for the Best Library / Librarian Blog. Congratulations to Mrs Schenkel who administers the blog. To view the Campus Resource Centre Blog click on the logo below.
Aberfoyle Park Resource Centre Blog
You can vote for the Campus Resource Centre Blog by visiting http://edublogawards.com/2011-3/best-library-librarian-blog-2011/?nominee=joschenkel
The year 2/3s and I appreciate your support.